About Dr. Horrible's Sing-Along Blog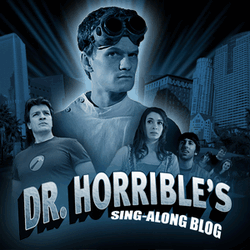 Dr. Horrible's Sing-Along Blog is a 43-minute tragicomic musical in three acts, each released separately. It tells the story of Dr. Horrible, an aspiring supervillain, Captain Hammer, his nemesis, and Penny, their mutual love interest. The movie was written by writer/director Joss Whedon, his brothers Zack Whedon and Jed Whedon, and Jed's fiancée, actress Maurissa Tancharoen. The writing team penned the musical during the WGA writers' strike. The idea was to create something small and inexpensive, yet professionally done, in a way that would circumvent the issues that were being protested during the strike. (more...)
Dr. Horrible's Sing-Along Blog will air on television for the first time ever, October 9th on the CW!
The musical was originally released online during the summer of 2008 to great success and acclaim, but now it will finally reach a massive audience that includes people who don't know how to operate computers. It should be noted, however, that the version of "Dr. Horrible" that the CW will air will be slightly edited down from the online original and is being shown by the network as a way to draw attention to its fall lineup. Either way, it's great news!
Joss Whedon has revealed his intentions to film a Dr. Horrible sequel!
Check out this interview, where Joss Whedon talks about the cast and crew's interest in developing a Dr. Horrible Sequel. For more information, check out the sequel page, and please help us keep it updated as more information surfaces!
"Look at my wrist! Gotta go."
Will you be watching Dr. Horrible's first TV appearance on The CW on October 9th?
Community content is available under
CC-BY-SA
unless otherwise noted.