The Evil League of Evil is an elite group of super villains, headed by the infamous Bad Horse, the Thoroughbred of Sin. It is assumed that they have some connection to, or affiliation with, the Henchman's Union.
The main plot of Dr. Horrible's Sing-Along Blog revolves around Dr. Horrible trying desperately to get accepted into the League, which he is eventually told -- after a failed attempt to disrupt the dedication of the Heroes Memorial Bridge -- requires that he commit a murder to do so. After Penny's death, Dr. Horrible is assumed to have killed Penny himself and admitted into the league.
Evil League Fan Contest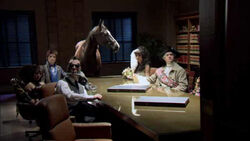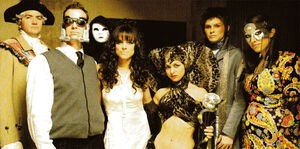 After the release of Dr. Horrible's Sing-Along Blog onto the internet, a contest was held for fans to submit their own 3-minute-or-less video applications to the Evil League of Evil. There were over 1,000 submissions, from which 12 were chosen.
These new (unofficial) members include: Tur-Mohel and his Minyan, L'Enfant Terrible, The Reverend, Mr. Terrible, Princess Zombie, Calamitous Orphan, Lord Stabbington, Miss Broadway Dork, Duchess of Defeet, Princess Zelda's Son, Fidgety, and Movie Monkey.
A photo of the original Evil League of Evil (minus Bad Horse and Dr. Horrible) can be found in the soundtrack booklet.